% Rabatt bis *
Rabatt wird automatisch bei Bestellung abgezogen.
* inklusive ges. MwSt. zzgl.
Versand
.

var src = "https://www.paypal.com/sdk/js?currency=EUR&client-id=AXfVQ94VwqRoe7qfvCOi_P6JHgsb2B9bJlupwL_UJWGUHSmZLFDB4XuJvVt4g3Ouwk04WHJpT5EGTdO9&components=messages"; if(!document.querySelector('script[src="' + src + '"]')) { var script = document.createElement("script"); script.type = "text/javascript"; script.id = "paypal-installment-banner"; script.src = src; script.rel = "preload"; document.body.appendChild(script); }
GRAND CRU Ampullenkur - Schönheit im Zeichen der Rose
Mit der Grand Cru Edition hat BABOR eine exklusive und außergewöhnliche Ampullenkur geschaffen für besonders anspruchsvolle Haut. Drei präzise aufeinander abgestimmte Ampoule Concentrates, mit exklusiven Rosenextrakten, bilden ein hochwirksames und allumfassendes Anti-Aging Erlebnis.
The Rose Ampoule mit Extrakt aus der Damaszener Rose sorgt für eine sofortige Faltentiefenreduktion. The White Ampoule mit weißem Rosenextrakt der Alba Rose verleiht einen ebenmäßigeren und jugendlich erstrahlenden Teint. Die Kur endet mit der schwarzen Baccara Rose. The Black Ampoule schützt die Haut vor freien Radikalen und wirkt damit vorzeitiger, umweltbedingter Hautalterung entgegen.
Wenn Sie auf das folgende Bild klicken, werden Sie zu youtube.com weitergeleitet und können das Video ansehen: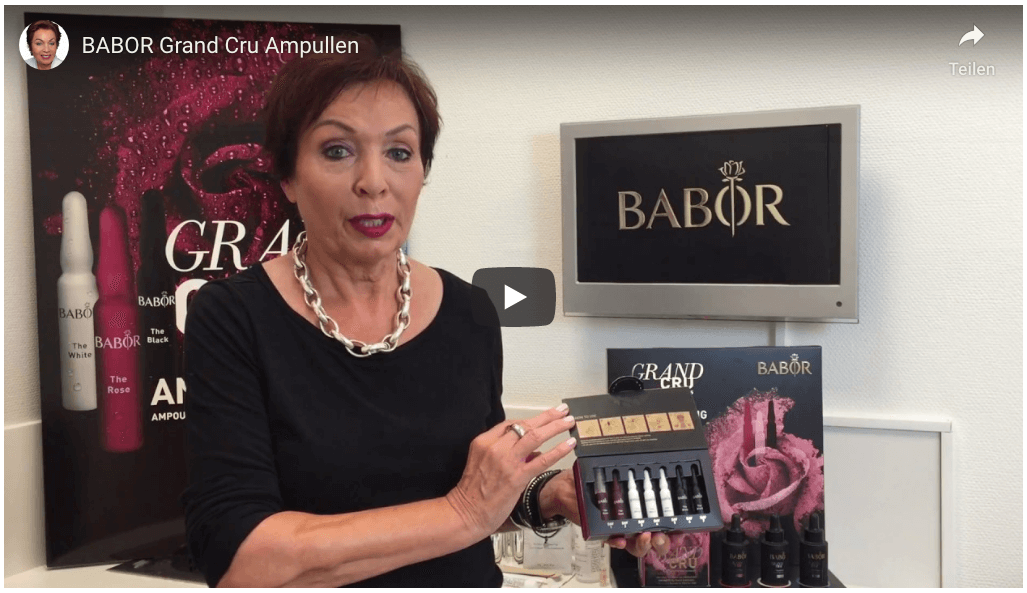 "Wenn Sie sich und Ihrer Haut mal etwas ganz Exquisites bieten wollen, dann gibt es die Grand Cru Ampullen-Kur mit verschiedenen Rosenextrakten, die Ihre Haut wunderbar versorgen. Es gibt die rosa Rose mit Wirkstoffen, die für eine ganz schnelle Faltenreduzierung sorgen, für eine Festigung des Gewebes, also einen sofortigen Effekt. die weiße Rose, die der Haut Regeneration bietet, damit die Hautstruktur verfestigt und verfeinert wird und die schwarze Rose, die ganz intensiv radikal Schutz gibt, damit die Umwelt uns nicht so viel anhaben wird. Also eine 7-Tage-Kur für die ganz exklusive Anwendung."
Anwendung
Die Grand Cru Ampullen bieten in 3 Schritten über 7 Tage ein ultimatives Anti-Aging Erlebnis. Die Haut wird durch die aufeinander aufbauende Ampullenkur in einem 3 Step System regeneriert, verfeinert und geschützt.
Schritt 1: GRAND CRU The Rose – ultimative Hautverjüngung mit regenerierenden Eigenschaften und Soforteffekt
Schritt 2: GRAND CRU The White – ultimative jugendliche Ausstrahlung dank verbesserter Hautstruktur
Schritt 3: GRAND CRU The Black – ultimativer Schutz gegen vorzeitige, umweltbedingte Hautalterung
Nach der Reinigung mit BABOR CLEANSING-Produkten. Ampulle schütteln und den Ampullenhals mit einem Kosmetiktuch oder dem beiliegenden Ampullenöffner bedecken. Ampulle am Ampullenhals bzw. Öffner anfassen und mit einer ruckartigen Bewegung am unteren, farbigen Ring aufbrechen. Konzentrat in den Handteller geben und dann auf Gesicht, Hals und Dekolleté verteilen. Sanft in die Haut einklopfen. Anschließend Pflegecreme auftragen.
Inhalt: 7 Ampullen à 2 ml: 2 x The Rose Ampullen, 3 x The White Ampullen, 2 x The Black Ampullen.
BABOR Grand Cru Ampullen - Artikelnummer 408534 - EAN 4015165335245
"Haben Sie Fragen? Mein Name ist
Ruth Bercker
. Ich bin Kosmetikerin,
BABOR zertifiziert
und arbeite seit über 25 Jahren mit BABOR Kosmetik und habe viele Jahre Erfahrung mit Hautpflege und Anti-Aging mit BABOR Produkten. Sie finden mich auch auf
Facebook
,
Youtube
,
Instagram
und bei
TrustedShops
"
"Gerne berate ich Sie persönlich zu Ihrer Hautpflege und zur Anwendung der Produkte. Falls Sie Fragen haben, rufen Sie mich gerne an unter Tel. 02801-6564 (Mo-Fr 10-18h), schreiben Sie mir eine Email an
info@babor-beautyspa-bercker.de
oder besuchen Sie mich in meinem Kosmetik-Institut in
Xanten
."


Kunden, die diesen Artikel gekauft haben, kauften auch:
Für Liebhaber der BABOR Ampoule Concentrates gibt es jetzt eine ganz besondere Neuheit zu entdecken. Die Grand Cru Ampullenkur kombiniert exklusive Rosenextrakte und erlesene Wirkstoffe zu einem Anti-Aging Erlebnis der Extraklasse. Die Grand Cru Ampoule Concentrates sind in drei exklusiven Varianten erhältlich, die perfekt aufeinander abgestimmt sind. Entscheiden Sie sich für eine 7-Tage-Intensivkur oder verwenden Sie die Grand Cru The Rose Vliesmaske als Beauty-Boost für zwischendurch.